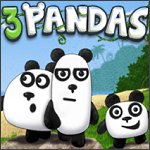 3 Pandas 1
In 3 Pandas 1, get ready to join the three panda brothers in their first adventure. Getting kidnapped by pirates, these three adventurers need some help from escaping their captors. Can you lead them out of the danger, and help them return back to the safety of their home?
Eating bamboo leaves was relaxing until these filthy pirates set foot at the home of the pandas. They've kidnapped the brothers, and now it's time for an escape plan. Your objective in this game is to complete each level by solving puzzles by using the three characters. You can play the game with your mouse, so click on the play button at the main menu to start. On a level, you'll see different objects that you can interact with. Each character has a unique ability. The small panda can be thrown, the tall panda can help others dangle from ledges, and lastly, the big panda can hold the other two on top of him to reach high places. Reaching the arrow at the end of a level completes it, and you can continue on the next one. Have fun!
If you enjoyed playing this game, then why don't you try other titles in the series? Be sure to play 3 Pandas in Fantasy too! Enjoy!
Developer
Flashgames developed 3 Pandas 1.
Release Date
June 30, 2017
Features
Colorful 2D graphics
Multiple levels filled with various puzzles to solve
Intuitive controls
Entertaining and addictive gameplay
Controls
You can use your mouse to play this game.