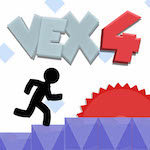 Vex 4
Get ready to be vexed by the challenging platform levels of Vex 4! For the fourth time, be prepared to run at the highest speeds, jump over terrifying ravines, dodge the deadly traps and climb to the top! Let the adrenaline course through your body and control your actions as you leap over the many obstacles and claim your victory! Flex your muscles and wear your running shoes! We are going to challenge the world of Vex!
As the fourth installment of the wildly popular series, Vex 4 is finally here! Featuring intense levels with tricky traps and many other challenges, you're in for action-packed gameplay. Similar to the previous titles of the series, your objective is to complete every level (called acts) in the Vex world. In Vex 4, there are 9 acts in total, each filled with devilish traps and challenging routes to complete. Danger lurks around every corner. The game controls are versatile but simple. Use the left and right arrow keys or the AD keys to move around. To jump, press the up arrow key or the W key. Sometimes you'll encounter narrow passages within the Vex world. Use the down arrow key or the S key to crouch and crawl or slide through those small openings. You will also need to use the S key or the down arrow key to enter the acts. Press down when you are standing on top of the entrance. While standing still, you can check your character's surroundings by using your mouse. This is very helpful when the next platform or trap lies somewhere above or below you and is not visible on your screen. You can unlock the Hard Mode version of each act by completing the different challenges listed at the bottom of the screen. Keep running and show them that you are unstoppable!
Vex 4 offers an addictive gameplay experience for players of all ages. If you enjoyed the fourth game, be sure to visit our collection and try the other games in the series as well, such as Vex 3!
Developer
Vex 4 is developed by Amazing Adam.
Release Date
October 2018
Features
Cool physics
9 acts to play
Challenge room
Different trophies
Controls
Use the AD or LEFT/RIGHT arrow keys to move. The W or UP arrow key is used for jumping. Use the S or DOWN arrow key to crouch.