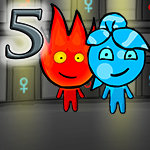 Fireboy and Watergirl 5: Elements
Stare down the various puzzles and challenges that the fifth installment of the wildly popular puzzle game series, Fireboy and Watergirl 5: Elements offers. Are you ready to delve into mysterious and deadly temples one more time? Take control of the popular duo, Fireboy and Watergirl, for the fifth time and help them escape temples filled with traps and maze-like levels. You will face lava pools, water puddles, buttons, levers, platforms, and many other interesting puzzle features as you try to clear a safe path for both of your elemental characters to reach the end to complete each level and proceed to the next. Let the adventure begin!
A boy made out of fire and a girl made out of water might seem incompatible at first, but these two elemental characters put their differences aside and help each other by reaching places the other one can't. As the player, this is where you step in and take control of both characters. Similar to the other games in the series, these elemental characters have weaknesses and resistances. Fireboy is also known as Lavaboy because he can walk through pools of lava unscathed. But his raging flames will be extinguished if he contacts water, and that's where his partner Watergirl comes into play. Similar to Fireboy, Watergirl is resistant to her element but can't walk through fire or lava lest she evaporate. The death of either one of the characters will cause you to lose the level. You should control these two characters strategically to clear the path in each level by reaching the levers, buttons, and other features. In Fireboy and Watergirl 5: Elements, you will visit many different temples, from the forest temple to the light temple. Each of these temples has different mechanics so be aware of your surroundings and help the elemental duo to reach safety! If you don't want to play alone, you can invite a friend or family member to enjoy this adventure!
Fireboy and Watergirl won't stop exploring and this mutual adventurous trait keeps getting them into trouble. Go check out other games of Fireboy and Watergirl here at Kizi for free! Have fun playing!
Developer
Oslo Albet developed Fireboy and Watergirl 5: Elements as well as Fireboy and Watergirl 3: The Ice Temple.
Release Date
January 2019
Features
Many different temples to explore
Colorful 2D graphics
Co-op gameplay
Challenging puzzles
Controls
Use the arrow keys to control Fireboy and the WASD keys to control Watergirl.
Fireboy and Watergirl 5: Elements - WALKTROUGH