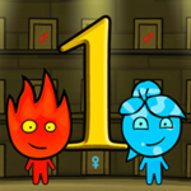 Fireboy and Watergirl 1 - The Forest Temple
In Fireboy and Watergirl 1, the many mysteries that are hidden inside of the forest are about to be revealed. In Fireboy and Watergirl the Forest Temple, the two elemental friends decided to discover the mysterious temple deep in the woods. Get ready to take control of both characters. Interesting platform levels, challenging puzzles, and shining diamonds await you in the first game of the beloved series. Help them as they explore and try to escape from the forest temple.
Fireboy and Watergirl The Forest Temple has become a very popular game in the puzzle platform genre. Your objective in the game is to control both characters and complete the levels by solving the puzzles. To solve the puzzles, you need to control both of the characters, because each challenging level requires teamwork to solve. Due to their nature, the two heroes have unique weaknesses and abilities. Fireboy can pass through pools of lava and other fiery traps without a problem. But if he tries to pass through a pool of water, he will be extinguished and die. The same applies to Watergirl: she can pass through pools of water with ease but dies when she comes into contact with fire. They both will not survive touching the pools of green goo. Stay away from those at all costs. When one character dies, you'll lose the game. You can use the arrow keys to control Fireboy, and the WASD keys to control Watergirl. You can also collect the gems to complete the levels. Red gems are for Fireboy, while the blue ones are for Watergirl to pick up.
The first adventure Fireboy and Watergirl Forest Temple offers many levels and addictive gameplay. You can play the game alone or with a friend. Don't forget to check other the adventures of these cute characters in our Fireboy & Watergirl games collection.
Developer
The game was developed by Oslo Albert. The Forest Temple was followed by other titles, such as Fireboy and Watergirl 2 and Fireboy and Watergirl 4.
Release Date
November 19, 2009
Features
You can control both characters at the same time
You can play with a friend
Challenging puzzles
Multiple levels
Controls
Use the arrow keys to control Fireboy. Use the WASD keys to control Watergirl.
Fireboy and Watergirl 1 - The Forest Temple - WALKTROUGH