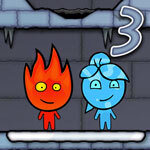 Fireboy and Watergirl 3 - The Ice Temple
Fireboy and Watergirl 3: Ice Temple is the third instalment of the popular Fireboy and Watergirl online game series. Join the elemental duo in their third adventure, and get ready to face new ice-themed puzzles and dozens of challenging levels. Fireboy's flames are blazing and Watergirl's flow is calming. Are you ready to help them through the dangerous ice temple?
In this 3rd adventure, the gameplay and controls are similar to the previous games of the series. Use the arrow keys to control Fireboy. Due to his nature, he is weak against watery obstacles. Upon contact with pools of water, he will be extinguished so keep away from those kinds of traps while controlling Fireboy. He can pass the lava pools without any issue. Watergirl can be controlled by using the WASD keys and a similar logic applies to her. The only difference is that she is resistant to pools of water and can pass through them with ease. The lava pools, however, are deadly for her due to her nature as a water elemental. She will evaporate upon coming into contact with the lava. You can pass these pools by jumping over them, just make sure you don't undershoot your jumps. To pass a level, you will need to use both characters. In each level, you will see crystals. You can collect fire crystals with Fireboy and water crystals with Watergirl. Don't want to play alone? Invite a friend to play with you Fireboy and Watergirl 3! With new levels and puzzles, Fireboy and Watergirl in the Ice Temple will become one of your favorite games!
Once this adventure is over, you can start another one right away! At Kizi, we have an extensive collection of games! Do you want to explore other elemental temples in this series? Then try out Fireboy and Watergirl 2 The Light Temple or Fireboy and Watergirl 5 Elements. Many adventures await you there! Visit other locations and clear all the levels!
Developer
This game was developed by Oslo Albert.
Release Date
July 2014
Features
Two-player game, playable as a single player
Many puzzle levels to complete
New elemental ice temple
3rd game in this popular series
Controls
Use the arrow keys to control Fireboy. Use the WASD keys to control Watergirl.
Fireboy and Watergirl 3 - The Ice Temple - WALKTROUGH