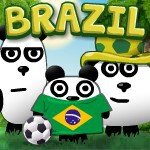 3 Pandas in Brazil
Pack your bags and wear your shades because in the game 3 Pandas in Brazil we're going to visit the sunny beaches of Brazil with everybody's favorite panda trio. After all of their adventures, our friends decided that they could use a vacation. However, their dreams of spending some time relaxing in the sun got ruined, just like the sandcastle they were building. A mean animal trader decided to kidnap them! It didn't take the three pandas long to escape. But when they got away, they realised that they had been taken to Brazil! Join the pandas on this amazing journey and play football, wear a mask to attend the carnival, and explore the streets of Brazil in this fun game filled with many different and entertaining puzzles.
Out of the frying pan and into the fire! Our pandas are used to getting into trouble, but they didn't expect to deal with quite as many challenges as 3 Pandas in Brazil has thrown their way. Just like in the other games belonging to this addictive series, your objective as the player is to complete each level by solving the puzzles. Control the pandas and help them work together. You can move the pandas around and interact with their environment using the left mouse button. In addition to jumping and climbing, each of these pandas has a unique set of abilities that you can use to solve the various puzzles and overcome the many obstacles. To use a panda's ability, click on them and then on the icon that appears nearby. Small Panda can be launched in the direction of hard-to-reach places. Slim panda can hold onto ledges and let you reach the lower platforms. Lastly, these two pandas can climb onto Big Panda to make a tower.
Adventure is second nature to the panda brothers in this game series starring the 3 Pandas, and you can also enjoy the many other amazing installments here at Kizi. Visit our 3 Pandas games online to join this trio for lots of other fun puzzles and adventures!
Developer
FlashTeam developed this game, as well as the other titles in the series.
Release Date
2014
Features
Colorful 2D graphics
Intuitive game controls
Entertaining gameplay
Cute pandas with unique abilities
Controls
Use your mouse to play this game.
3 Pandas in Brazil - WALKTROUGH