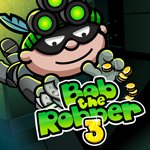 Bob the Robber 3
Being a successful burglar will usually attract the worst kind of attention, but that's not the case with our local thief Bob in the Bob the Robber 3! The series continues with this 3rd installment, in which Bob embarks on a new adventure. His skills have caught the watchful eyes of a military intelligence agency and they've offered him a job. Now he has a big heist like no other to complete! Wear your mask and help him uncover the mysteries of the top secret base as you clear one level after another!
Bob is ready to face whatever a top-secret military base has in store for greedy trespassers! Your objective is to uncover all the secret documents hidden in each level as you try to reach the vault. A top-secret base wouldn't be complete without security cameras, tough guards, and many electronic obstacles that are designed to keep intruders out. This heist will not be easy, but Bob is determined to complete the job. Security cameras can be tricked! They can't catch what they can't see! Use the shadows to hide and stay still until you can dash to safety! No one can see you when you become one with the shadows. The dark circles under the eyes of the guards and the sluggish movements give away the bad working conditions of this place. Wait for the right time to knock them unconscious. Be careful though! Even though they appear sleepy, the guards are still big strong guys, and if they catch you they won't let you go. Another type of obstacles you have to figure out a way around is locked doors. Bob can use his trusty lock pick to pick open most locks, but for some electronic doors he'll need to try a different approach. You'll need to unlock different gadgets to crack open certain doors and solve a number of new puzzles. We hope your utility belt has some free pockets left!
Bob deserves a nice vacation after this job. If you'd like to join him on a lucrative trip to Paris, head on to the next page and play the 4th game in the series Bob the Robber 4!
Developer
Bob The Robber 3 is developed by Meow Beast.
Release Date
July 2016
Features
Platformer gameplay with stealth elements
Lots of different puzzles to solve
10 new levels to complete
Defeat a range of enemies
Controls
Use the arrow keys to play this game.
Bob the Robber 3 - WALKTROUGH