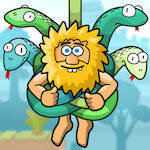 Adam and Eve: Cut the Ropes
In Adam and Eve: Cut the Ropes, our main character Adam got himself into trouble, and his wife Eve is worried about him. Can you lend your hand, and save him from the traps?
The jungle is beautiful, but it's also dangerous. Adam found himself tangled by the snakes, and he needs your help to get back to his wife, Eve. This game features 5 different zones, each with 12 challenging levels. When he got trapped, Adam dropped all of his apples, and it's your job to collect them all. The controls of this game are pretty simple, all you need is your mouse. When you start a level, you'll see Adam hanging from a platform. Drag your cursor over the snakes to free him, but be careful! If he falls down, you'll need to start over. On some levels, more than one snakes are tied to Adam. You should click on them in the correct order to collect every apple. In the top left of the screen, you can see the number of apples you've collected. If you make a wrong move and got stuck, you can restart the level by clicking on the icon located in the upper right corner of the screen.
You can enjoy many online games here at Kizi for free! Have you tried playing the first game of the popular series, Cut the Rope?
Developer
Functu developed Adam and Eve: Cut the Ropes.
Release Date
April 30, 2019
Features
Colorful 2D graphics
5 different zones to complete
60 entertaining levels
Intuitive controls
Controls
To play this game, you can use your mouse.
Adam and Eve: Cut the Ropes - WALKTROUGH