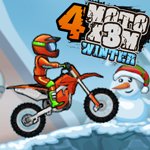 Moto X3M 4: Winter
In Moto X3M 4: Winter, hit the icy roads, and show off your amazing motorcycling skills through multiple challenging levels. Regular motorcyclists prefer the safety of ordinary roads, but where's the fun in that? Put on your helmet, and get ready to embrace the dangers of the thrilling tracks. Can you finish the game without getting a scratch, and prove your talents?
The town is getting ready for the winter celebration, and you'll provide the biggest entertainment for the residents. Between the snowy roofs and the decorated streets, there lies the challenging road. Get on your motorbike and impress everyone with your thrilling stunts. Your objective in this game is to complete each level in the shortest time possible to earn all three stars. Performing such stunts is probably pretty hard in real life, but in this game, it's quite easy. You can use the arrow keys to control your character. The up and down arrow keys are used for accelerating and braking, respectively. You can use the left and right arrow keys to perform flip stunts and balance your motorbike while you're in the air. At the end of each level, you can receive up to 3 stars depending on how fast you complete the course. You can use these stars to unlock 2 other vehicles. Check how much time you're spending on each level by looking at the clock located at the top of the screen.
If you enjoy this exciting game, then be sure to check the other title in the series, Moto X3M: Pool Party. Have fun!
Developer
MadPuffers developed Moto X3M 4: Winter.
Release Date
November 30, 2018
Features
3 different bikes that you can unlock and use
25 challenging levels to complete
Colorful 2D graphics
Entertaining gameplay
Controls
Use your arrow keys to control your bike.
Moto X3M 4: Winter - WALKTROUGH